Mechanics - Strategy Cards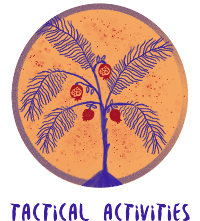 All games, no matter the scenario will have these Strategy Cards.
Content Advisor
Publish a piece of writing about the experience. Note the title of the piece, where it is published and where it will be distributed.
Contact the media about the experience. Note which media agencies you would contact and how you'd convince them to cover it.
Ask feminist bloggers to write about the experience. Note which bloggers you'd suggest and why.
Respond to attacks on social media. Explain the response, note what hashtag you will use and which communities will be your targets and allies.
Come up with your own content strategy.

Legal Advisor
Call a lawyer and ask them to file a lawsuit. Note which law/s you will cite.
Go to the police and file a report. Explain why you think the police can help.
Document the experience for later legal use. Note what you would document and how.
Submit an abuse report to a social media platform. Note which platform(s) and the policies that were violated.
Come up with your own legal strategy.

Solidarity Advisor
Ask people for support. Note what kind of support you want and who you will contact.
Create a campaign to highlight the abuse. Note the name of the campaign, target(s), allies and at least one action.
Ask your friends be your social media filter, documenting and deleting or hiding abusive comments from your view so you don't have to see them.
Ignore the attack and carry on as usual. Note why this could be effective.
Come up with your own solidarity strategy.

Skills Advisor
Double check account privacy and security settings. Do you want to hide your friends and photos from public view on Facebook? Have you tried two-step verification for logging into your accounts? Note other steps you'd take.
Search for information or pictures of yourself online. What terms would you search for?
Go offline for a while. Under what conditions would this be a good strategy? What are the benefits?
Report the abusive accounts/content. Note which platform(s) and the policies that were violated.
Come up with your own skills strategy.