Mechanics - Players & Cards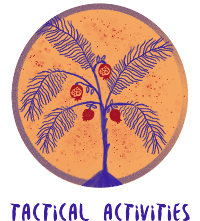 The participants will be split into three teams:
Survivor Team A
Survivor Team B
Public: presents challenges for each Scenario and decides which Survivor Team chose the best strategies given each context.
The Survivor Teams ideally would have 5 players per team. Each player has a role:
Survivor: Ultimately decides what strategy to play
Content Advisor: Provides advice to the Survivor about content-based strategies. The Content Advisor holds the Content Strategy Cards.
Legal Advisor: Provides legal advice to the Survivor. The Legal Advisor holds the Legal Strategy Cards
Solidarity Advisor: Provides advice to the Survivor relating to getting support from other people on the internet. The Solidarity Advisor holds the Solidarity Strategy Cards.
Skills Advisor: Provides advice to the Survivor about what she can do online. The Skills Advisor holds the Skills Strategy Cards.

The Game facilitator is an individual role. They keep time, read the scenario out loud and keep the game running smoothly.
This game requires a minimum of 10 participants and can easily accommodate groups of 30, but to ensure the quality of discussion and time limitations, it is best played with groups of under 20 people. Team size is adjusted depending on the number of participants. See chart below.
| | | | | |
| --- | --- | --- | --- | --- |
| TOTAL PLAYERS | SURVIVORS | ADVISORS | PUBLIC | FACILITATOR |
| 10 | 2 | 2 for each team=4 | 3 | 1 |
| 12 | 2 | 3 for each team=6 | 3 | 1 |
| 14 | 2 | 4 for each team=8 | 3 | 1 |
| 16 | 2 | 4 for each team=8 | 5 | 1 |
| 20 | 2 | 4 for each team=8 | 9 | 1 |
| 30 | 2 | 4 for each team=8 | 18 | 2 |
Cards
There are
Content Strategy Cards (5 per Advisor; one Content Advisor per Survivor Team)
Legal Strategy Cards (5 per Advisor; one Legal Advisor per Survivor Team)
Solidarity Strategy Cards (5 per Advisor; one Solidarity Advisor per Survivor Team)
Skills Strategy Cards (5 per Advisor; one Skills Advisor per Survivor Team)
Scenario Cards (6 cards in total)
Challenge Cards (31 cards in total; 5 per Scenario plus a "Make your own" Challenge card; a list of generic challenge cards can be found below)
Role Instruction Cards (7 cards in total)