About this learning activity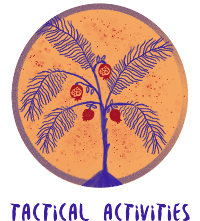 This activity is designed to introduce participants to respond to different forms of online GBV. The activity is carried out in three teams, and each team takes on one specific form of online GBV from among:
Blackmail
Cyberstalking
Hate Speech
Each team consists of a facilitator who has a set of Scenario cards and team members who have a set of Rights cards each.
The game begins with the facilitator helping participants reflect on the specific form of online GBV and how it manifests.
After a basic understanding has been established, the facilitator then plays a scenario card, and facilitating a discussion among team members about the scenario. Team members then respond to the scenario collectively by playing one Rights card each to safeguard themselves in the scenario. Members then discuss how the Rights they have selected would be violated in that scenario. The facilitator then moves on to the next Scenario card. Two scenarios can be played out by each team.
If time is available at the end of the activity, teams can gather together to discuss their reflections about their specific forms of online GBV and the related rights that protect them.
Learning objectives this activity responds to
an understanding of the forms of online gender-based violence (online GBV) and its impacts on the survivors and their communities
an understanding of the continuum of violence between the offline and the online spheres, and the power structures that allow it
ideas, strategies and actions about the ways in which online GBV, especially in their contexts, can be addressed
Who is this activity for?
This activity can be used with participants with different levels of understanding about online GBV and the rights stated in the Universal Declaration of Human Rights.
Time required
This activity will require about 2-3 hours.
Resources needed for this activity
Printed Scenario cards (2 Scenario cards per team)
Printed Rights cards (6 Rights cards per team member of all teams)
Space big enough for 3 teams to be able to have discussions
A table big enough to accommodate the Rights Cards that each team will be presenting per round