Sounds
Sounds: Bandcamp
Bandcamp is an online music store and also a platform for independent music and artists. Most of the content in Bandcamp is marked as "All Rights Reserved", meaning that if you want to use that material you need to seek permission from the author or artist. 
Bandcamp has some special tags for music that you can freely reuse. Check the Creative Commons, the CreativeCommons (without spaces) and the Royalty-free music tag. However, this means that you might be spending a lot of time searching for something that matches the type of work that you are looking for. Luckily, there is a tool called Camp Explorer that allows you to search with different tags. In order to use the tool, you need to enter each tag that you want to search for and press the button that says "add". For example, to replicate the search shown below you need to write "creative commons", press the button "add", write the style of music you want to search for (i.e. "funk"), press the button "add", and it will retrieve you albums that match that criteria.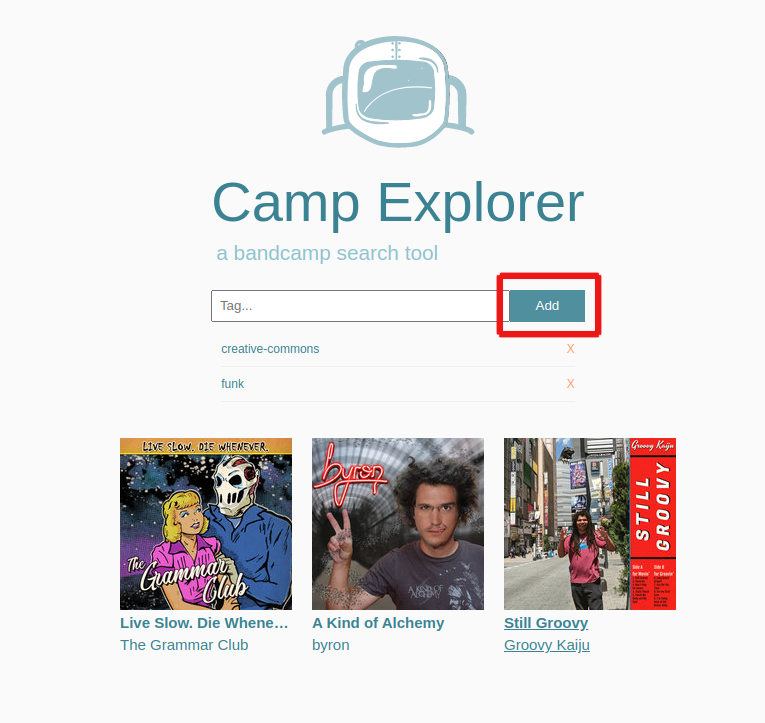 From there, suppose you go into the album "A kind of Alchemy". If you scroll down, you will find the license information, next to where the tags are. Remember to attribute using the TASL approach!

Sounds: Soundcloud
SoundCloud is a platform where different people can share their audio recordings. These recordings can be music, podcasts, interviews, and much more. It also allows for uploading Creative Commons materials. Like Bandcamp, their search interface is sometimes hard to navigate. You can search for "Creative Commons music" and then filter by tag. Or you can also search with the "Creative Commons" tag.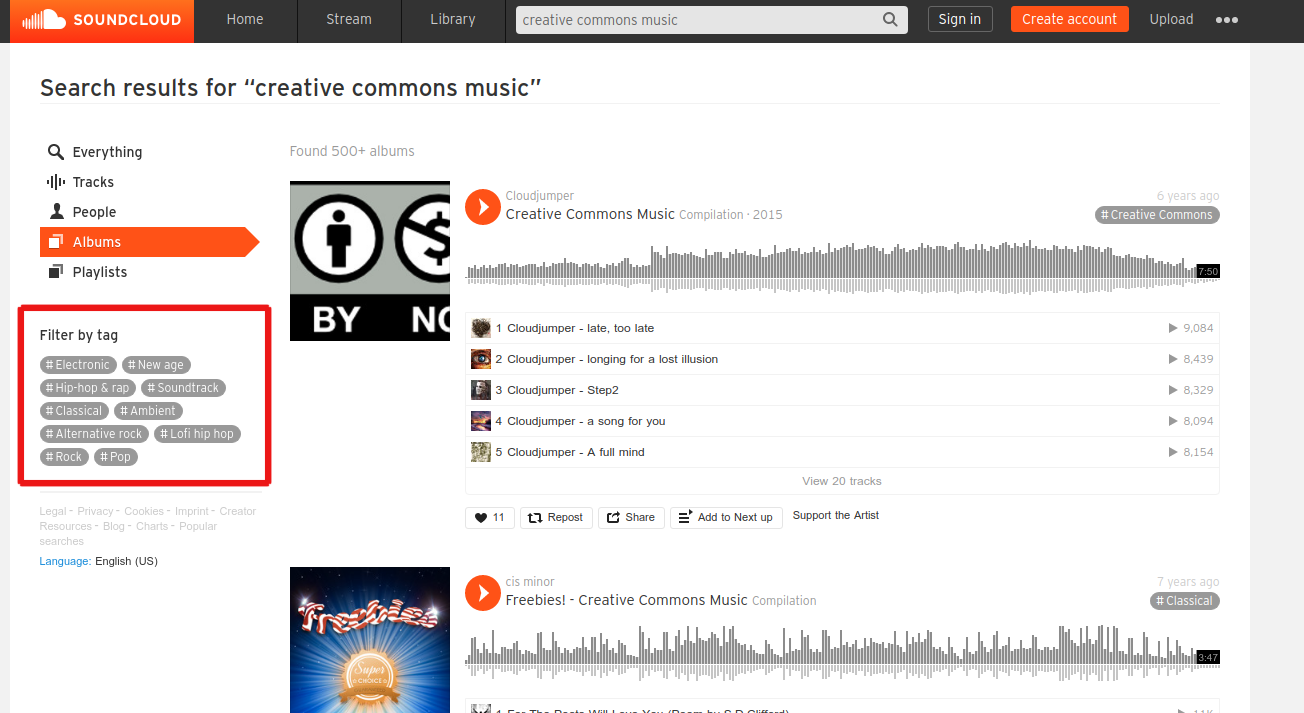 However, you have to be extremely careful when reusing this content. Most of it says that is Creative Commons but the people uploading this content are actually not licensing it with a Creative Commons license. Always go to the track and search for the "show more" button to find the attribution information. See for example in this track "Phlex - Light Me Up (feat. Caitlin Gare) [Argofox]"

If that credit line doesn't appear, then search for another resource that has it. 
Sounds: ccMixter
ccMixter is a platform where musicians can upload their music. ccMixter uses three different licenses, two of them are CC licenses (CC BY and CC BY-NC) and the other one is a special license designed by them that provides royalty free music for certain types of uses. To search for content, you need to go to their service Dig ccMixter. You can search by filters or just type a manual search.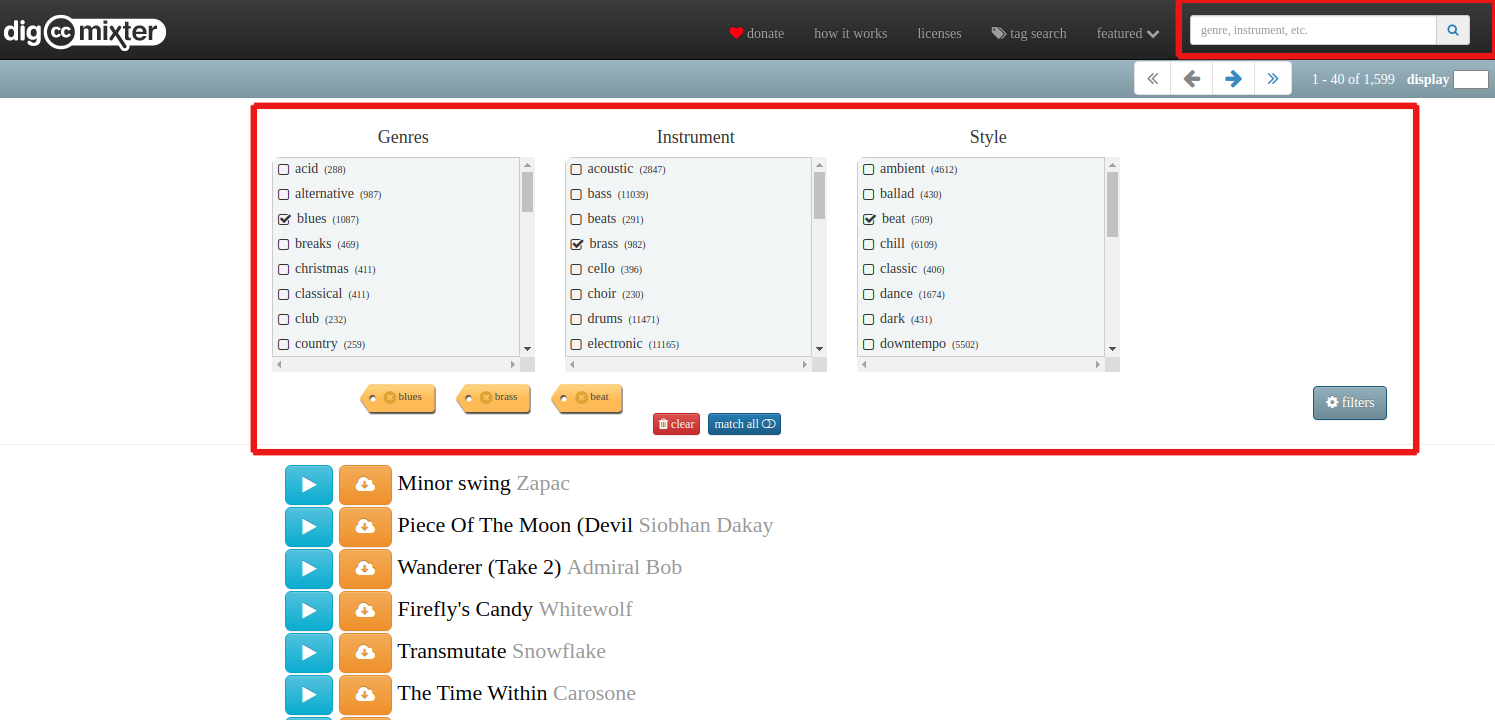 Since the website offers only two licenses, it is more likely that you will find a CC BY content easier, particularly if you use the search filters wisely. The CC symbols are clearly displayed at the right corner of every track. See the example.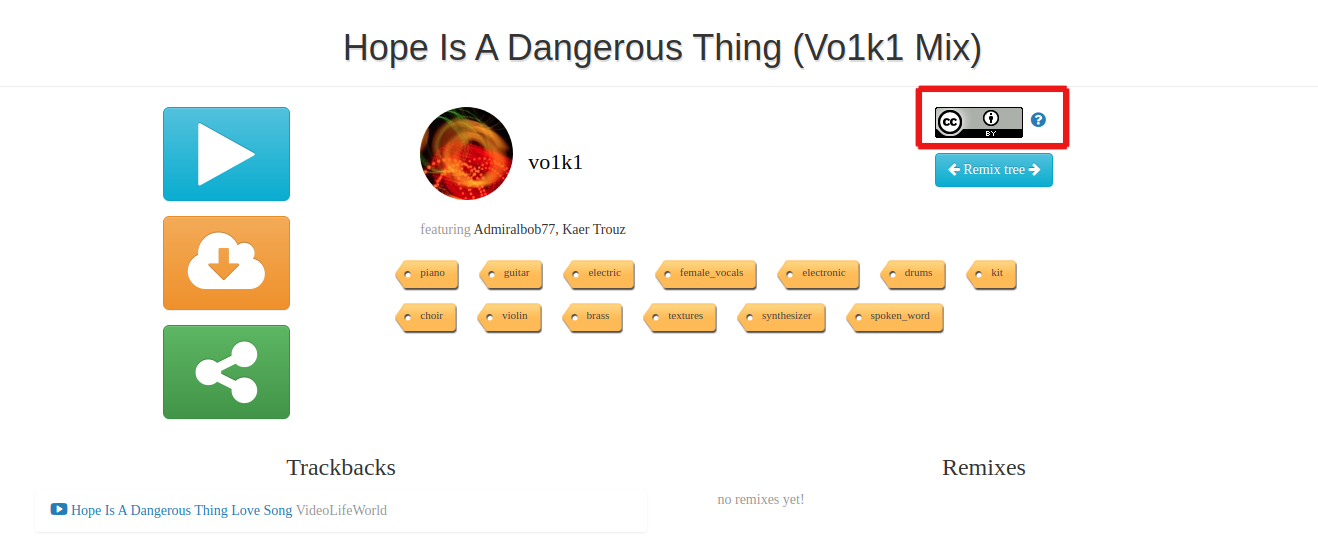 Sounds: Free Music Archive
Free Music Archive is another platform for musicians and creators. It has great search features. Their search functionality also allows you to filter by license, track duration, and genre.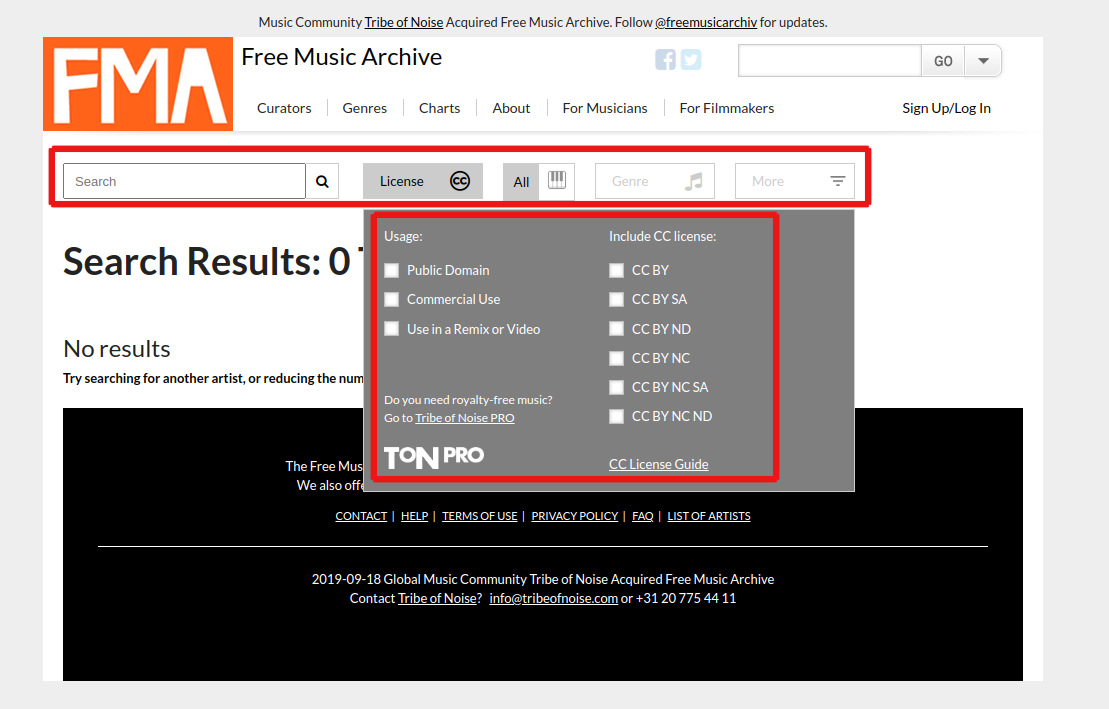 FMA also displays the CC licenses in very clear ways, and provides for a very complete TASL attribution that you can copy. See the example.